LOCATION: Home | Website Business Package

Website Business Package.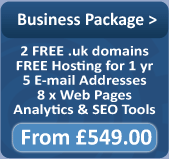 Our Business Package is aimed at organisations and companies with a greater requirement from their website than is offered in our starter package.
From just £549.00 we can take care of everything. Your first years web hosting is free! (normally £60.00) and includes up to 8 web pages including a personalised contact form, 5 email mailboxes, 2 free .uk domain names, Intermediate SEO content on all pages, Google analytics to track your sites effectiveness and your own mailbox and control panel so you can view statistics, change passwords and access other features.
We will also create and tailor your google places listing, submit you to search engines, add an image gallery and advise on off-site SEO.
All our sites are built to certified W3C /CSS standards so you can be sure they will perform at their best.
We can also design and supply all kinds of business stationery. Why not click here to see what our Small business starter packages include.