LOCATION: Home | Website Starter Package

Website Starter Package.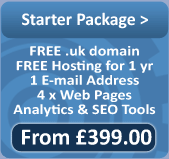 Starting a website, whether for business or pleasure, can quickly become a complicated and expensive undertaking.
At Digital Engine we specialise in setting up tailored web solutions to suit all industry sectors and budgets.
Our Starter Package is ideal for small businessess just starting out.
From just £399.00 we can take care of everything. Your first years domain name and web hosting are free! up to 4 web pages including a personalised contact form, Basic SEO content on all pages, Google analytics to track your sites effectiveness and your own mailbox and control panel so you can view statistics, change passwords and access other features.
If you want to start up online and you dont want to waste your time and money then speak to someone who really cares and let us help.
We can also design and supply all kinds of business stationery. Why not click here to see what our Small business starter packages include.